Android 11 is finally out of beta and has launched a stable version for Pixel Phones. This new version of Android seems to be an optimizer more than a creator itself. This is a more optimized version of Android 10 than a completely new version of Android. For those who are expecting for completely new changes may face a disappointment. But Android 11 is more of an optimization of old features and bringing in a new OS is making a more user-friendly environment. New OS seems to help our process more smooth and better than previous without a change in the system. There is barely a difference in features on Android 10 and 11. But there is a huge optimization on features offered by Old OS. Here are some of the things you can expect out of it.
Emojis
Emojis are the best part of the android updates. As the new android version comes we see new emoji rolling out already. This android version will also have brand new emoji. Android 11 emoji are not all new but are fantastic and give a great messaging experience. There are more than 100 new emojis that we can see in Android 11. There are more body parts, dogs, vehicles, and many more you can see in the new android.
Dark mode schedule
Unlike the previous Android version, we can now schedule our dark mode. The dark mode is a great feature. It was brought by Android 10. Now in Android 11, we can set our phone to enable dark mode for a specific time. We can use at normal lightning at day and OS will automatically give you access to dark mode at night.
Bubbles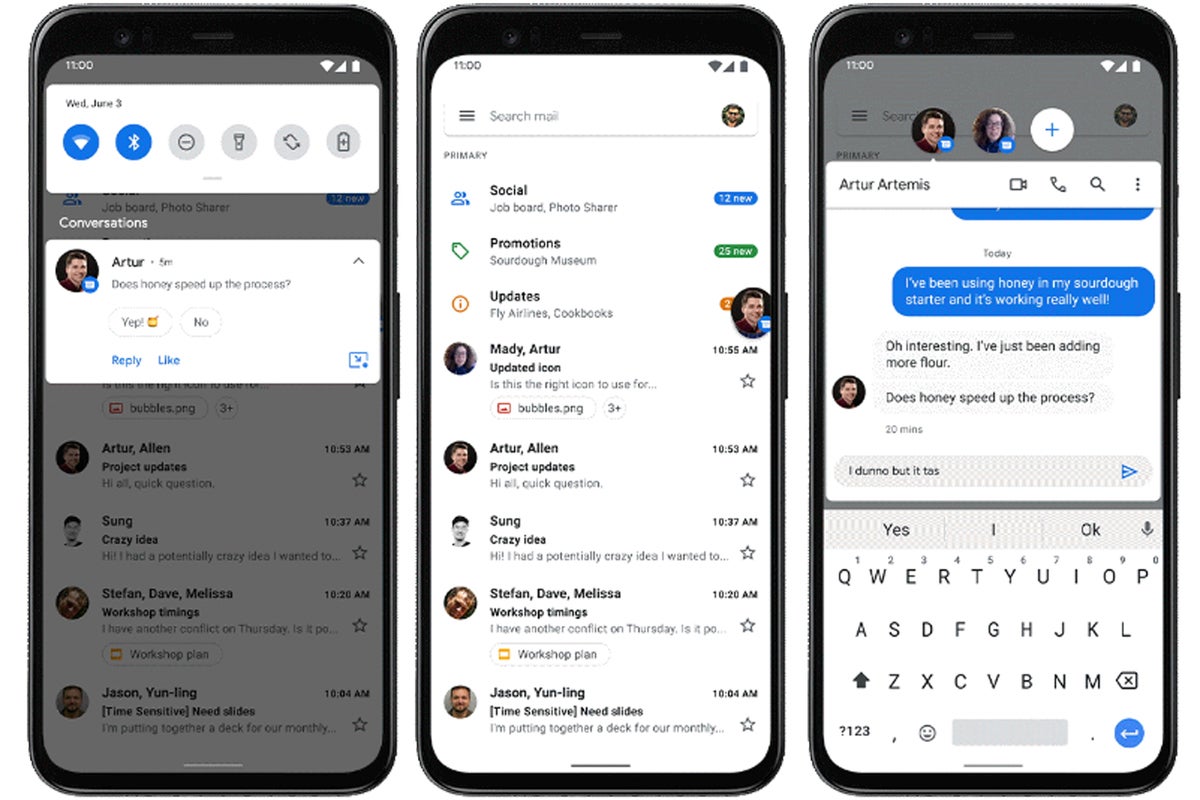 One of the best messenger features is a chat head. Chat head helps us in multitasking. Seeing this, Android 11 will have bubbles on the phone messages. This is definitely the best among features in the upcoming OS. The bubbles basically put your text messages in a popup view. This is helpful for faster conversation without disturbance. This can be useful while watching videos and doing other tasks.
Native screen recording
These features can be a huge advantage for content creators. Android 10 gave a screen recording feature. But it was limited mainly on gaming. But now in Android 11, we shouldn't rely on third-party apps to help us do so. We can record our screen on one tap and close it easily. We can easily open and close screen recordings from the notification panel.
Permissions and Privacy
There is the enhancement in permission as well in the upcoming Android 11. There is only three option in the OS we are using. But in android 11 we can give permission for a specific app. For example, if we turn on location for google map it remains on forever unless we turn it off manually. But, android 11 offers you different options for your permissions regarding your privacy. In android 11 we can give permission to app-only when we are using them. That means none of the apps will get permission in the background if we want. Due to these features apps cannot access and leak our data.
Refresh rate according to the app
Recently higher refresh phone is the trend in the smartphone market. Mobile companies are investing in higher refresh rate displays. In the upcoming new OS, we can see how much refresh rate your phone is offering. We can also set refresh rates according to the app.  For example, we can work on 60hz on youtube feed and 120hz while playing video
Airplane mode
When you turn on airplane mode your all connection gets off. For example, connected Bluetooth devices. For those who travel a lot, it is annoying. Now in New OS when you turn on airplane mode, Bluetooth remains on if u have connected devices.
Pined sharing apps
While we try to share files we get all the apps that are capable of sharing. There is also some app which we don't use for sharing and it becomes disturbing. Android 11 brings us the feature to pin sharing apps. While we try to share the thing we can pin apps for sharing options manually. This makes sharing easier and faster.
Notification area
The notification area is now easier and has a better layout. In this new OS, notifications are shown based on categories. As an add on, messages are kept at the top in Notification. This helps us to easily access people's messages. And deal with them first and other notification later
Media and smart devices control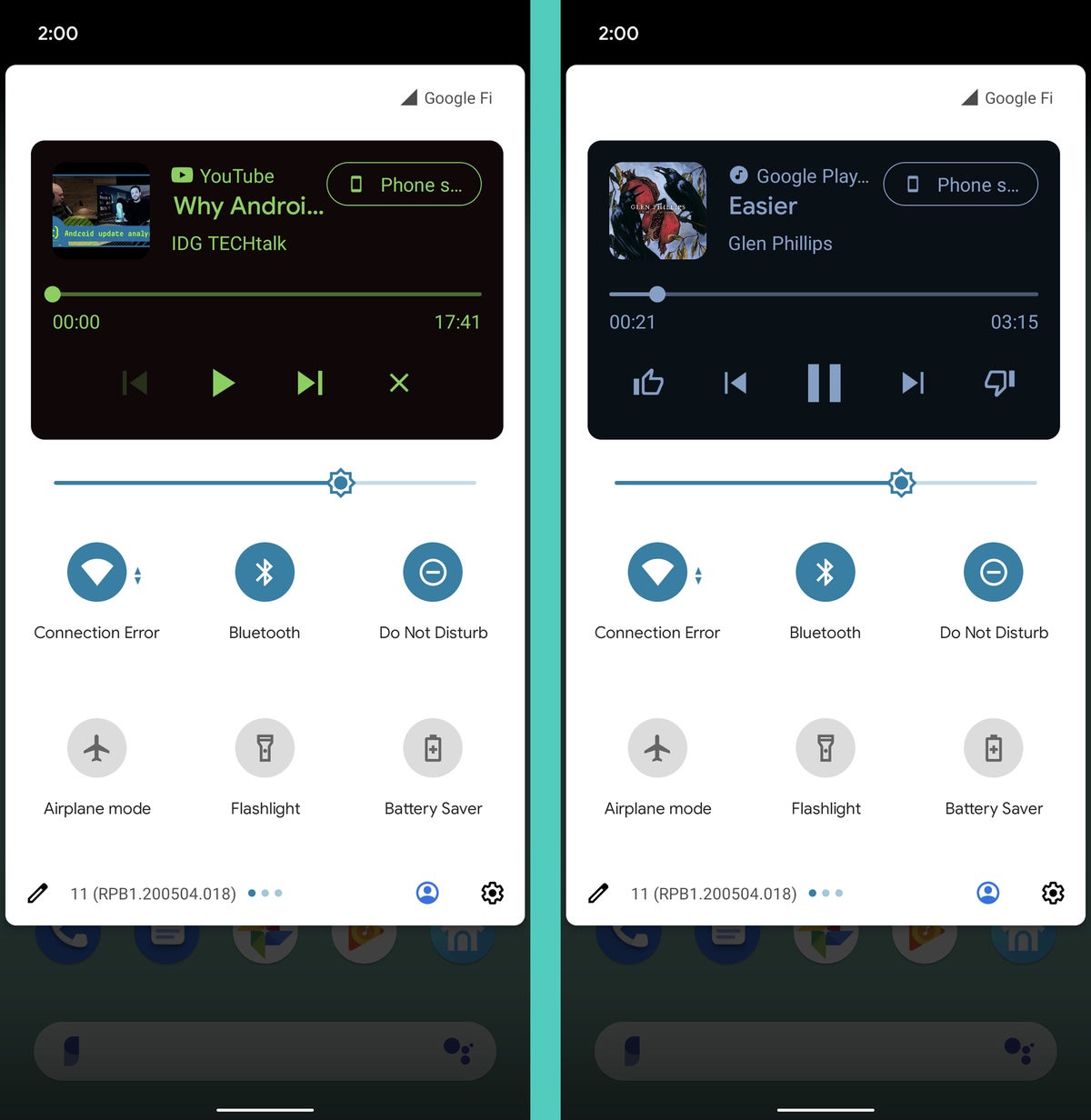 The media we use on our phone like listening to music is now easily accessible. There is quick access to the media now. There is a place above notification for quick media access. We can easily control sound play new and previous music and more through this quick settings.
Smart home hubs are modern to us. We use many smart home hubs like remote lights, Alexa, google now, and others. Now there is ease control to these apps. In android 11 we can control all smart home hubs from a single place. It becomes way easier in android 11 if you connect apps to google home as well.
Other small changes
You can block notification on the camera app.

We can easily copy and paste text from the recent app section.

The animation of the recent app is better than the previous one.

Refresh can be used differently in different places.

The keyboard doesn't pop up but opens with a smooth transition.
For now, the Android 11 is compatible with only a few devices, as follows
Google Pixel 2 / 2XL

Google Pixel 3 / 3Xl

Google Pixel 3a / 3s XL

Google Pixel 4 / 4 XL

Google Pixel 4a

Xiaomi Mi 10 / Mi 10 Pro
ALSO READ: https://gizmoguff.com/playstation-5-is-finally-launched/